The New Virtual Reality: Harassment In The Work From Home Age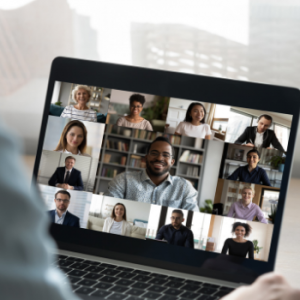 You have been asked to present to your company over Zoom. The presentation is going well, and you skillfully ignore your cell phone buzzing quietly on your desk. After you finish to strong applause, you finally get the chance to exhale and check your phone. Within seconds a Facebook message knocks the wind right out of your sails. A colleague who was on the call has reached out to you, but not to compliment your work. Instead, they have sent you inappropriate messages about your appearance while on the call, and told you how much they wished you were in the office so that they could see your outfit in person.
While the messages make you uncomfortable, you're also not sure where to turn. If this person made comments to you in the office, you know you can confidentially go to a supervisor, but somehow this feels different. It happened over social media while you're technically not in the office, so is it something even worth reporting?
The answer is a clear and resounding 'yes'. When the pandemic began last year, work from home setups were implemented in a hurry, in workplaces that had never planned for virtual employee engagement. While most employers have worked hard to iron out many of the technical glitches in their work from home set-up, the latest research shows that gender-based harassment is actually on the rise in the COVID era. It's never okay, but when it happens in the workplace there are documented protections in place.
A Whole New World
Workplace sexual harassment has gained significant awareness since the provincial government included it in the Occupational Health and Safety Act ("OHSA") in 2016. At that time, prior to the rise of the #metoo movement, the government produced a series of advertisements indicating that "it's never okay" to harass someone in the workplace, especially when that harassment is of a sexual nature. Yet the examples featured usually took place in a traditional workplace such as an office. Leering glances, offensive jokes, lewd comments, and unwelcome touching were among the standard examples of ways that harassment may occur.
Working from home has created entirely new forms of harassment that may not have been contemplated a year ago. Aside from the examples above, there are other forms that are related to one's webcam, such as telling a colleague to turn their camera on over and over again, or taking screenshot images of colleagues working on webcam and distributing them to online forums without permission.
There is also the phenomenon known as 'Zoom bombing,' where an unwelcome attendee parachutes into a virtual meeting with the sole purpose of harassment. The Toronto Star recently featured a story of a virtual conference of female entrepreneurs where an uninvited person entered the meeting to share graphic images, and blast music with explicit images. The women regathered in a new meeting and laughed it off, but it's no laughing matter.
Protections In Place
When it comes to harassment in the workplace, there are legal protections in place. The OHSA requires employers to take all reasonable steps to protect workers against workplace violence and harassment, including workplace sexual harassment, and the workplace includes work from home as well. While it may be more difficult to monitor working conditions with all staff distanced, employers are still required to have policies and programs in place to address harassment and how it will be handled. This includes ensuring confidential reporting mechanisms, so that workers can report occurrences without fear of reprisal including designating a secondary person available for reporting if the initial designated person is the alleged harasser. Perhaps most importantly, employers are required to investigate any reports of harassment (even if they do not come from the victim themselves), and can be penalized under the law if they fail to do so.
While OHSA applies to provincially-regulated workplaces, federally-regulated workplaces such as banks, telecommunications businesses, and airlines have recently incorporated the same standards. At the start of this year, the Canada Labour Code revised its harassment legislation to now include protections against sexual harassment, and mandates investigations similar to those required under Ontario legislation.
Review Your Policies
While the law requires policies and procedures to protect against workplace sexual harassment, it is unlikely that most workplace policies were drafted with mass, long-term work from home setups in mind. Up until last year, most employers considered inappropriate touching a far more likely threat than harassment over webcam, and most workplace policies reflect this perspective.
As work from home is now an established practice for many businesses and may become a long-term solution, workplace policies should be reviewed and amended to reflect this shift. That should include a comprehensive definition of the workplace, commonly known as the Expanded Workplace that includes any space where employees are working, whether it's in a traditional workplace, their own home, or really any location that they are online.
Workplace policies and training should also provide an expansive definition of workplace harassment and bullying, including sexual harassment. Examples of 'Zoom bombing' and unsanctioned screenshots should be listed alongside inappropriate touching or name calling. Employees should be trained broadly to report any incidents that are unwelcome and make them uncomfortable so that the employer can deal with the incident appropriately. As a reminder, reasonable actions of management – such as asking an employee to give a presentation over a video conference – are not legally considered harassment. However, there is a key difference between instructing someone to work on a video conference and making unsolicited remarks about their appearance while they do so.
What You Can Do
For employees, workplace harassment and violence are never okay. We are here to help – whether that's helping advise you as you report an incident that occurred, helping you navigate the investigation process and next steps, or helping to make a legal claim against your employer if they fail to respond properly. You are never alone in this process.
For employers, we strongly recommend that you revisit your policies considering these changing workplace conditions. We regularly draft and help implement these policies for our clients and would be pleased to help you update yours to properly protect your workplace. We also routinely advise clients responding to allegations of harassment and conducting effective workplace investigations. Please do not hesitate to contact us should your organization require assistance with these matters. Reach out to us at [email protected] or complete our contact form here.