Considerations for Returning to the Workplace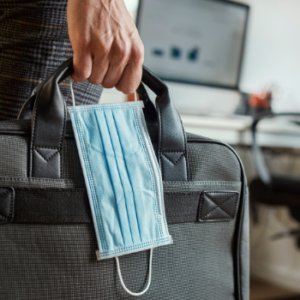 As Ontario eases several restrictions and as more employees continue to receive full vaccinations, employers are increasingly turning their mind to recalling their staff back to work in the office. While each workplace will have its own unique considerations, a flexible plan which guides such a return can ease the transition and ensure a successful return to work which is fairly implemented, safe, and efficient.
Below are a few considerations we encourage that employers review to assist in implementing an effective return to work strategy.
1. Federal and Provincial Guidelines and Legislation: Employers should be guided by federal, provincial, and municipal by-laws as they apply and which may govern public health guidelines, including how and when personal protective equipment (PPE) may be worn, as well as social distancing, screening, reporting guidelines, and operational limitations. For instance, all businesses and organizations permitted to be open must have a COVID-19 workplace safety plan. Employers should also review pertinent COVID-19 related employee protections including the amendments to the Employment Standards Act, 2000 ("ESA"), inclusive of the Infectious Disease Emergency Leave ("IDEL") and paid infectious disease emergency leave, as well as Canada Recovery Benefit ("CRB") requirements and eligibility for employees.
2. Health and Safety Considerations: Employers are mandated under the Occupational Health and Safety Act ("OHSA") to take every precaution reasonable in the circumstances for the protection of a worker. Employers should communicate safety measures which have been implemented to their workers as addressing any safety concerns at the outset can minimize potential work refusals.
3. Updating Employment Agreements and Workplace Policies: Given that employees may be working remotely for a significant amount of time, employers should perform a comprehensive audit of policies they have in place to ensure that they are current and address relevant governmental, public health, and operational guidelines. Management and employees should also receive adequate communication and training on any updated policies in advance of implementation. Key policies which should be reviewed include, among other policies, overtime, vaccination, pandemic, privacy, discrimination and accommodation, and policies pertaining to working from home.
Employers are also strongly encouraged to review their current employment agreements to ensure that they are up to date. Clauses to review and consider incorporating may include, among other clauses, termination clauses, language which expressly permits temporary layoffs in the future as well as clauses which allow for modification of duties, location, and hours of work.
4. Scheduling: Employers should also review employee schedules to ensure they are compliant with public health guidelines and operational needs. Many employers have been implementing a phased approach to recalling employees back to work, while others have resorted to revising schedules and shifts as part of a revised operations strategy to address business needs. Employers should be aware of scheduling and limitations on hours of work as per the ESA to ensure that they are in line with workplace legislation.
Lastly, employers should also be aware that unliterally imposing significant changes in working hours upon employees can lead to potential claims of constructive dismissal and requests for severance packages. Employers implementing significant scheduling changes are encouraged to speak with legal counsel prior to implementing such changes to mitigate any risks.
5. Recalling Employees: Many employees have been working remotely since March 2020. While there is no minimum notice required before recalling employees back to the workplace, employers should provide as much notice as feasible. By doing so, you are affording your employees sufficient time to set-up arrangements for issues such as childcare and transportation and to help employees acclimatize to the change.
6. Human Rights Considerations: Given that many workplaces have gone through significant changes to be compliant with safety guidelines, employers should revisit any workplace accommodations to ensure that employees will still be appropriately accommodated in the new environment
Employers should also familiarize themselves with common issues that may trigger the Ontario Human Rights Code as employees return to work, such as requests for accommodations based on family status (which would cover those individuals providing care to children or other dependants) or disability (such as an immunocompromised individual), as well as other employer obligations. An effective workplace accommodation policy will clearly lay out the obligations of each party and the steps which may be taken during the accommodation process.
7. Addressing Return to Work Refusals: Employees may have valid reasons for refusing to return to the workplace. Some, such as workplace refusals, stem from beliefs that the workplace is unsafe or non-compliant with established safety protocols or legislation and are governed by the OHSA.
Other refusals may be grounded in requests for accommodation based on a protected ground, as discussed above.
Organizations should also be prepared to respond to other refusals to return to the workplace due to other, non-protected grounds, such as a genuine preference to work from home, cost savings, or generalized anxiety regarding COVID-19. An effective recall notice including a well thought out communicate plan will clearly address how workplace refusals will be handled by the organization.
These considerations are non-exhaustive and will be unique to each organization. The team at Rodney Employment Law regularly advises employers on recalling employees back to the workplace from both remote work and layoffs. Please do not hesitate contact us at [email protected] or complete our contact form here.