IDEL Layoffs Constitute a Constructive Dismissal – Important Update from the Ontario Superior Court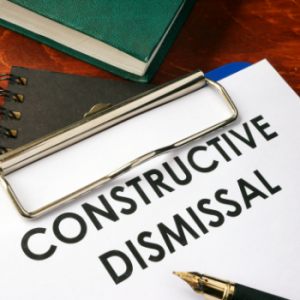 Since the introduction of the Infectious Disease Emergency Leave in May 2020, there has been great speculation as to its impact on the ability of employees who have been laid off due to COVID-19 to claim constructive dismissal. Pre-pandemic, most layoffs would constitute a constructive dismissal under the common law, entitling the laid off employee to pay-in-lieu of notice.
In the just released decision Coutinho v. Ocular Health Centre Ltd., 2021 ONSC 3076, Justice Broad confirmed that the restrictions on claiming constructive dismissal due to COVID related layoffs imposed by O. Reg 228/20 under the ESA do not overturn the common law.
Ms. Coutinho was an Office Manager for Ocular, which operated ophthalmic clinics in Kitchener and Cambridge. In late May 2020, Ms. Coutinho was notified that she was being placed on a temporary layoff due to operational issues related to the pandemic. Ms. Coutinho immediately commenced a claim for constructive dismissal.
The Court held that the IDEL provisions did not bar common law constructive dismissal claims based on two factors. It firstly looks to the ESA itself, which states under section 8(1) that no civil remedies (including common law remedies) are impacted by the ESA. The Court found that the IDEL restrictions under O. Reg 228/20 were constrained by section 8(1) of the ESA, its enabling legislation.
Justice Broad then looked to the ESA Policy and Interpretation Manual, which specifically states that the IDEL Restrictions "affect only what constitutes a constructive dismissal under the ESA. These rules do not address what constitutes a constructive dismissal at common law."
Consequently, it was held the Ms. Coutinho had been constructively dismissed from her employment with Ocular. However, she had entirely mitigated her damages by July 22, 2020, and as such, she was only awarded her outstanding statutory entitlement to termination pay.
It is important to note that a finding for constructive dismissal is fact specific. Notably, Ms. Coutinho objected to the layoff immediately and brought a claim for constructive dismissal which was issued June 1, 2020, shortly after being notified of her layoff. Had she waited, she may have been seen to have accepted or condoned the layoff, which is one potential defense to a claim for constructive dismissal.
Furthermore, unlike the circumstances in Coutinho, many employers sought consent or provided a significant amount of notice prior to laying off employees, despite the IDEL provisions, which provides a significant measure of protection against claims for constructive dismissals due to COVID related layoffs. Many others updated their employment agreements to include language which permitted a layoff, which would also protect their organization against similar claims.
This decision could have significant implications for employers, given the sheer number of employees who have been laid off due to the pandemic since March 2020. However, it is also important to recognize that this is the first of certainly many judicial rulings on the matter to come.
The team at Rodney Employment Law regularly advises both employers and employees on effectively navigating workplace layoffs. Please do not hesitate to contact us at [email protected] or complete our contact form here.